Dyking Out is a podcast where queer women talk about any and all topics that may concern the LGBT community in a deeply comedic way. We talked to Carolyn Bergier about starting a podcast in uncharted territory and the commitment running a podcast demands.
💡 A Shared Recognition
Comedians love podcasts and they make sure we know it by starting a new show pretty much every day. While it's true that fans of comedy have hundreds of podcasts to choose from, other audiences find less representation in podcasting and in comedy as a whole. When Carolyn Bergier and Sarah York, two gay comedians living in New York, realized that there wasn't a lot of content in podcasting that represented people like themselves, they decided it was no laughing matter. So, they started a comedy podcast called Dyking Out in order to create the kind of content they couldn't seem to find, and I got to talk to Carolyn all about it.

The two women met as writers on The Box Show, where they were "the only two lesbians in the writing room." After talking with each other about their lives the pair considered starting a podcast together, an idea that was strengthened when they realized that the kind of content they wanted to hear didn't seem to exist. Carolyn told me the pair was looking for "very funny [content] geared toward queer women and non-binary folks," and, when they couldn't find anything of the sort, made a plan, sat on it for around a year, and then launched Dyking Out.

🤣 Hilariously Gay
Dyking Out "is an unapologetically gay comedic podcast," Carolyn explained. Every week, she and Sarah welcome on a different guest who "dykes out" with them over "a different topic that [they] think will be relevant to the LGBTQ+ community. The show is geared toward queer women but welcomes all listeners, and Carolyn told me they typically discuss topics that "affect straight women and gay men and the trans community as well." First and foremost, Dyking Out is a conversation between queer women, not an interview of an expert on a subject, and invites listeners to sit in on that conversation.

🏳️‍🌈 Creating Queer Community I was curious if Carolyn and Sarah felt any hesitation in starting Dyking Out as the first of its kind, and Carolyn was entirely honest. "We were both extremely confident we would find an audience with this," she told me. "Even though there's more queer content now than ever, there's still not enough." As one of the least represented groups in media, Carolyn explained that queer women often "cling to any kind of representation that's out there." The pair was right in their estimation and the show has grown a wider and wider audience the longer it runs, reaching more and more queer women and providing them a sense of community. "We get regular messages and emails from listeners about the impact that the podcast has on their lives," Carolyn told me, citing stories of women realizing their sexuality, finding women like them, and finding people having the conversations they can't have with anyone else.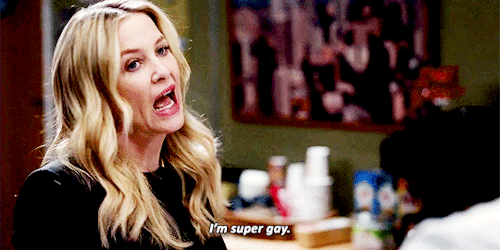 Of course, building a community and providing queer women and non-binary people with content they can relate to was a big goal at the beginning, but Carolyn was honest about the sacrifice of being the ones that provide that content. "[The hardest part was] definitely how much time it takes to run a podcast and one that has a new episode almost every week," she said. With both women working other jobs, often writing for various projects, and keeping up with their comedy careers, the "extra ten to fifteen hours" of podcasting work is definitely a lot to give to one thing but Carolyn feels the time is well spent because she loves getting to talk with the people who come on the show. "It's the only time in the week where I get to spend over an hour not looking at a cell phone or anything but having an uninterrupted conversation with two queer people," she told me, and she's excited to keep having those conversations.

⏩ Moving Forward
Looking forward, Dyking Out is excited to continue building community and supporting the women that appear on the show. "Now we have a monthly standup show that we do at Stonewall," Carolyn said. "So it's not part of the podcast but it gives us the opportunity to showcase the talent of the guests on the podcast and for listeners in New York to come and meet us." Beyond those shows and meetups, Carolyn was so excited to have Rosie O'Donnell as the guest of their live show which kicked off Pride Week in New York and definitely made for an exciting episode. So, if you're a fan of comedy or are looking for queer community, listen to Dyking Out and leave a rating and review to let Carolyn and Sarah know what you think!
---
Chasing Pods is a Podchaser blog series dedicated to letting our readers know about podcasts they may not have heard of or provide a sneak peek into the making of their favorite podcast. We talk to podcast creators about their journey into podcasting, the creation of their shows, the ups and downs of the work, and what they're looking forward to for their podcast
Do you love or make a cool podcast? Do you want to be featured on our blog? Email Morgan (morgan@podchaser.com) to tell him why your favorite show should be featured next.