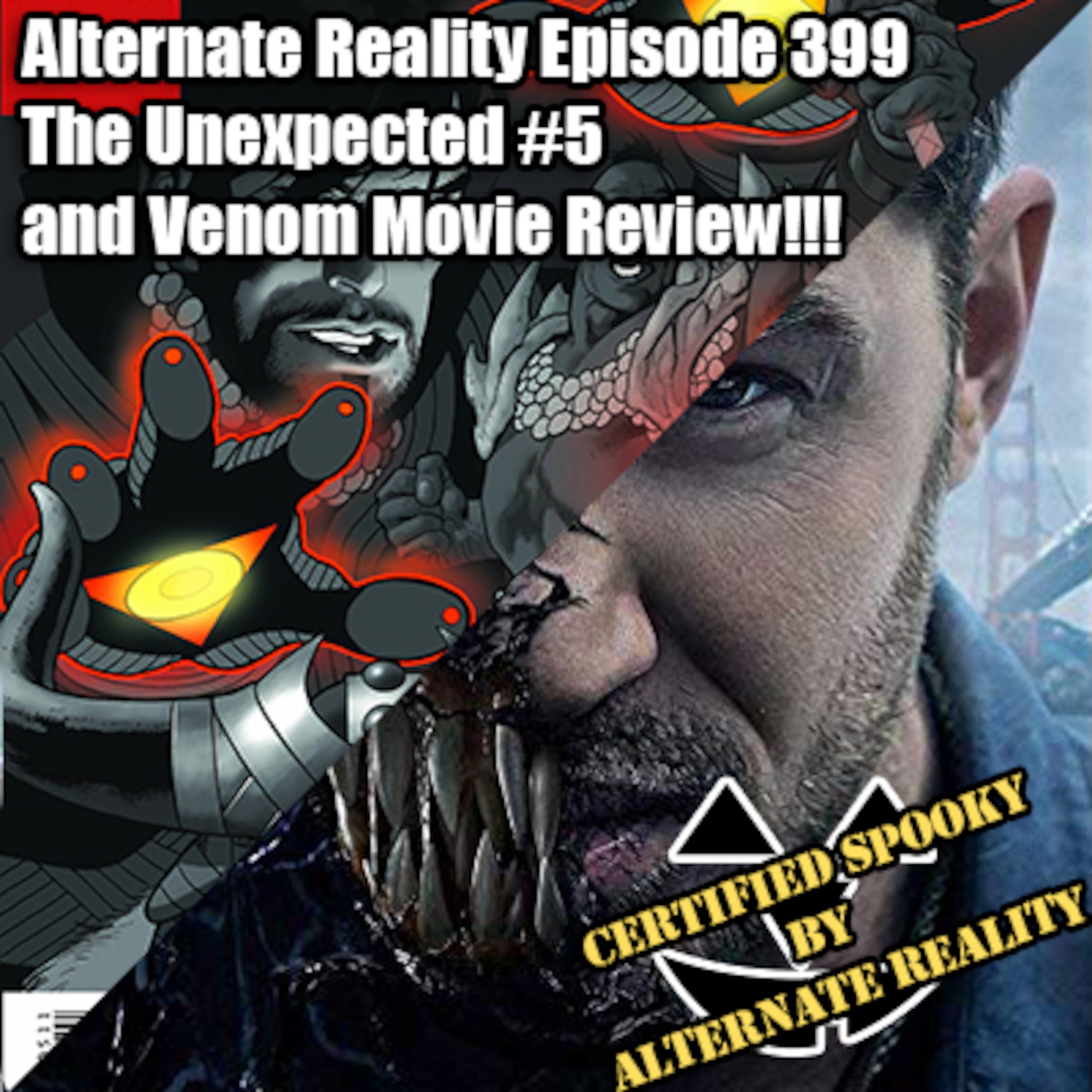 Alternate Reality - Episode #399
Last episode was a double length episode. Guess what?.... we got another hum-dinger of a show lined up tonight and it too is a double length episode. Why does Alternate Reality keep putting out double length episodes? Well perhaps it because we only put about half as many episodes as we're supposed to, so we feel encumbered to give you more content each episode. ORRRR it could be that we have no time management skills. Either way you got double for you trouble again this week.
This week things take an "unexpected" turn when Charlie talks about The Unexpected #5. Jon relives his college glory days in his review of Batman/The Maxx #1. And the boys talk about several other great books; too numerous to name.
Then the worst happens. Jon and Charlie decide to spend just a few moments on The Venom Movie that just came out in theaters. Well you know that that means here on the Alternate Reality Podcast…………. DOUBLE LENGTH EPISODE!!!!!!!!
That's right the boys go IN DEPTH to tell you everything that happens in the movie and what they thought about it right down to the mid and end credit sequences. By the time they get done you will feel like you saw the movie twice as you'll relive almost every moment of the film though Jon and Charlie's eyes. And if you haven't seen it and decide to listen anyway, well then you won't need to see it anymore as you will be able to create the action in the movie in your mind from the boy's vivid "play-by-play" reenactments and descriptions. It really is breath-taking.
If, after all that, you are still a fan and want to listen to next episode you're in for a treat. Next episode is #400. See you there. Comics: The Unexpected #5 Batman/The Maxx #1 Superior Octopus #1 Justice League #9 Heroes In Crisis #1 Batman #55 & 56
Movies: Venom
Contact us at:
[email protected]
Follow us on Twitter: Show:
http://twitter.com/AR_Podcast
Jon:
http://twitter.com/jonloveless
Charlie:
http://twitter.com/Xonslaught
The Alternate Reality Facebook page can be located at:
https://www.facebook.com/pages/Alternate-Reality-P…
Alternate Reality is a proud member of the Comics Podcast Network Check out the Network at:
http://www.comicspodcasts.com/