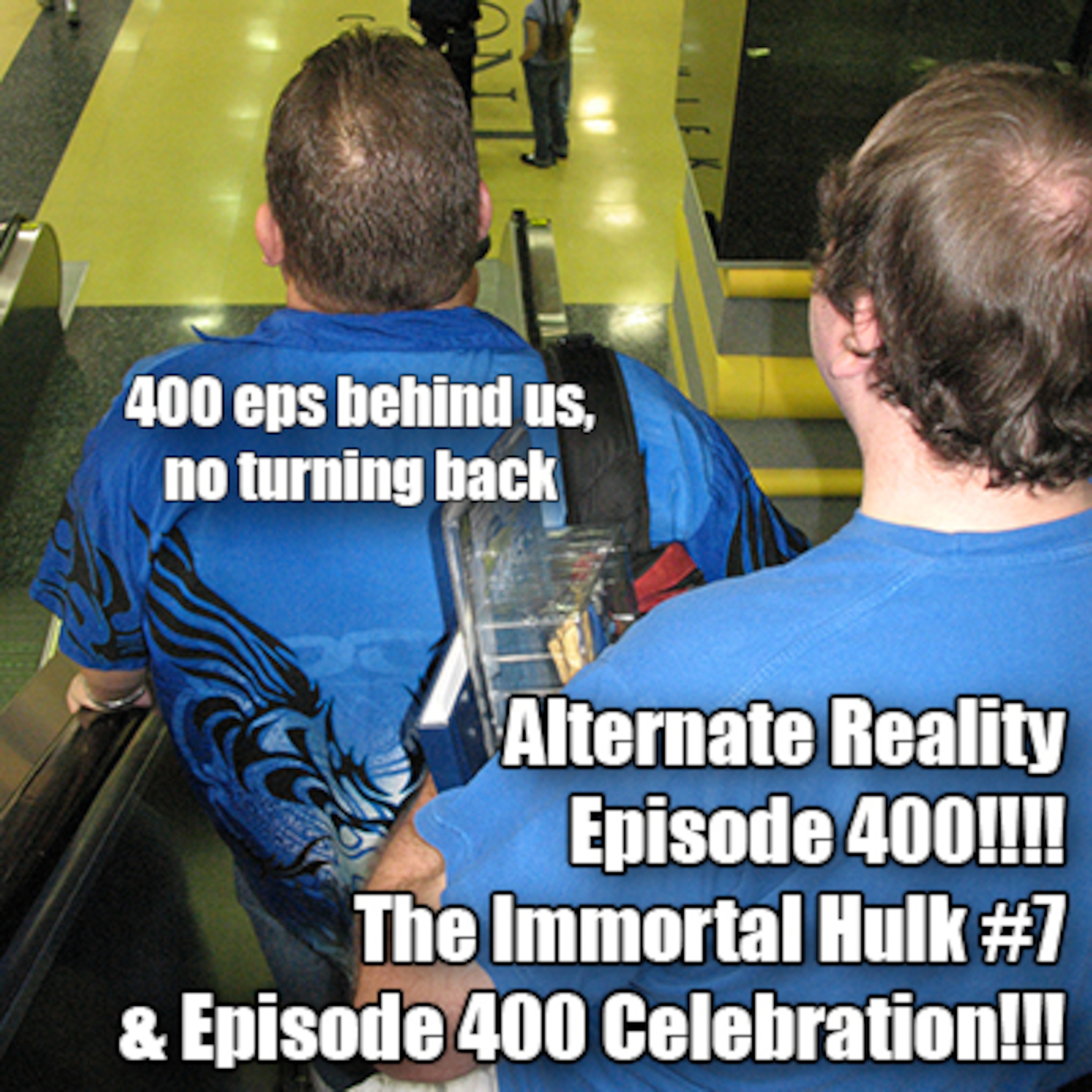 Alternate Reality - Episode #400
There's a party going on right here, and it's Jon and Charlie celebrating their 400th episode. We've got special music, we've got good friends, and there's the sexy ladies over there dancing on the…. Well you can't see that so there's no point in getting into it.
Suffice it to say that there's a lot of fun going on here but Jon and Charlie don't let that get in their way. They've got comics to review, and by Jiminy nothing's going to stop them. Jon continues to be challenged by the Immortal Hulk, while Charlie walks us through Spider-Geddon. Several DC comics then make the list, Supergirl, Hawkman, and Detective Comics respectively, and Charlie finishes talking about an Image book (of all things) about an STD that improves your looks??? Yep, you heard me.
Lastly Jon and Charlie get some love from a couple longtime listeners who sent in voicemails to help us celebrate the 400th episode. There's too much fun for your tiny mind to process on this episode of Alternate Reality!!!
Enjoy.
Comics: The Immortal Hulk #7 Spider-Geddon #1 Supergirl #23 Hawkman #5 Detective Comics #990 Beauty #24
Contact us at:
[email protected]
Support the show by becoming a member of our Patreon. Visit our Patreon Page at:
https://www.patreon.com/AlternateReality
Follow us on Twitter: Show:
http://twitter.com/AR_Podcast
Jon:
http://twitter.com/jonloveless
Charlie:
http://twitter.com/Xonslaught
The Alternate Reality Facebook page can be located at:
https://www.facebook.com/pages/Alternate-Reality-P…
Alternate Reality is a proud member of the Comics Podcast Network Check out the Network at:
http://www.comicspodcasts.com/