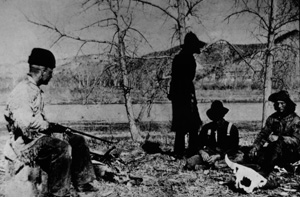 Perhaps no president has as many unbelievable stories about his life than Teddy Roosevelt. He was an amateur boxer. He was the first American politician to learn judo. He summited the Matterhorn during his honeymoon. He joined an expedition to log data about an unchartered river in the Amazon.
But perhaps no story matches his pursuit of three boat thieves in the Dakotas in the 1880s. Learn how Roosevelt travelled 300 miles in the bitter cold to arrest three thieves… all to prove to other ranches that he wasn't a week Easterner who came out to to the frontier to play cowboy.
WANT FREE ACCESS TO AN ONLINE COURSE ABOUT WINSTON CHURCHILL? READ BELOW
This episode is brought to you by Hillsdale College. They would like to invite you to learn more about the incredible life of this fascinating man — one of the greatest leaders and statesmen of our time: Winston Churchill.
You can get exclusive access to this new free online course studying the life of Churchill by going to 
Hillsdale.edu/h5m
and signing up today.
Almost a million people have taken Hillsdale's renowned courses like Constitution 101,  American Heritage. As a history fan, you won't want to miss this one.
Get exclusive access to Hillsdale College's new course on Winston Churchill right now. Go to 
Hillsdale.edu/h5m
and sign up today.