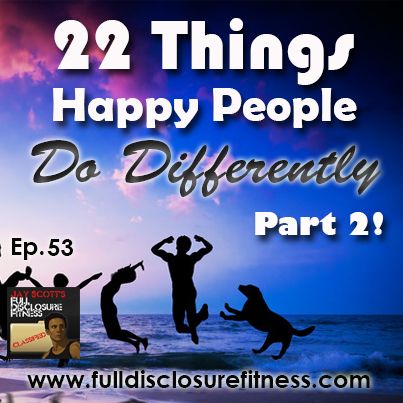 Why talk about happiness on a Podcast that is specifically geared towards fitness & fat loss?

Because being happy goes far deeper than having a great body & health. It goes deeper than wealth, deeper than love, and deeper than family. Happiness is determined by your actions – and none of the aforementioned can be enjoyed without it.

In Part 2 of our "22 Things Happy People Do Differently" you'll learn 11 more tips that are sure to set you on the path to a life full of happiness and contentment. So click play and let's go!

More specifically in this episode you'll find out:
Why having "good" friends can make or break you…


How seeking approval from others can sabotage your success efforts.


How you can nurture & appreciate your social relationships.


What you can do today to instantly relieve stress and anxiety.


Why eating well isn't just for the health of the body…


How to get a daily dose of Zoloft – naturally!


How to simply your life to make it more enjoyable…


And much, much more.
Resources Mentioned in this Episode:
T-Shirt Ideas?
If you have ideas for the upcoming Full Disclosure Fitness T-Shirts click below to Submit them!
Thank You SOOOO Much For Your Support I Truly Appreciate It!
I just want to take a minute to thank you for being an FDF Podcast listener. It means so much to me. I want nothing more than to give you a better and better product, so please use the contact form here if you have any questions or comments – I'd love to hear from you!
Help out the Show!
And lastly, if you haven't done so already I would love if you took a minute to leave a quick rating and honest review of the podcast on iTunes by clicking on the link below! It would be extremely helpful for the show. Thank you so much in advance!
Thank you for listening, and I hope you enjoyed this episode. Please let us know what you think in the comment section below.