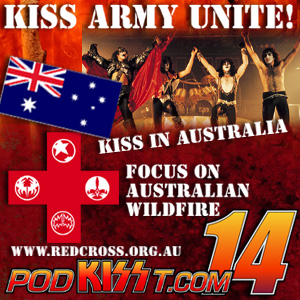 We've long wanted to do a show about the KISStoric Australian tours that have delighted fans down under since 1980. Then we learned of the wildfires that have taken a tragic toll on lives and land. This was the catalyst for us to pay homage to the enduring bond between KISS and Australia.
As the bushfires continued, we saw a spirit of brotherhood come shining through. In 1998, Paul sang about "strength in numbers." Maybe he was singing about the KISS Army, our international collective that knows no borders.
Upon learning that the PodKISSt was doing a show about the wildfires, the online KISS Army demonstrated remarkable solidarity by sending messages of hope. LoveGun07 wrote: "It's been wonderful getting to know our Australian KISS Army brothers and sisters, and I wish them all safety." Px74 said: "My deepest sympathies to all families and friends affected by the terrible bushfires in Victoria."
On this edition of the PodKISSt, we're joined by George Xirocostas, webmaster of KISS Army Australia (see our links). George shares some funny and moving memories, and provides us with information on how we can help those whose lives have been impacted by the Australian wildfires.
We hope that these stories and live rarities from KISS' Australian tours inspire you to lend a helping hand to those in need. Below is a link to the Australian Red Cross. In the words of KISS, "Dontcha hesitate!"
www.redcross.org.au