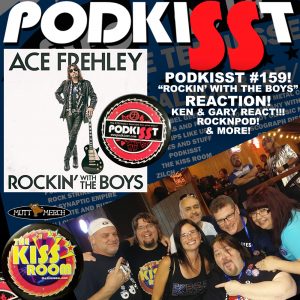 WE REACT to the new Ace song "ROCKIN WITH THE BOYS", We talk KISS, ROCKNPOD 2018, New Music, Wifi Crock Pots and so much more!
NEW "KISS ROOM TOMORROW LIVE!
Get the new ACE song on Amazon
https://www.amazon.com/Spaceman-Ace-Frehley/dp/B01…
This is the age of PodKISSt!
Rate us on iTunes,
"like" us on Facebook,
and join the "PodKISSt Army!"
Join the conversation!
www.facebook.com/groups/Podkisst/
https://www.facebook.com/groups/thekissroom/
https://www.facebook.com/PodcastRockCity/?fref=ts
Get a PodKISSt/KISSROOM! shirt here
http://www.redbubble.com/people/designsbyken/collections/314385-kiss-art

For a limited time, you can get your own KISS ROOM and PodKISSt buttons, FREE!
All we ask is that you pay shipping and handling of $3 for one/$5 for two.
• Purchase via PayPal:
zilchorders@gmail.com
(Leave your name and number of buttons and which kind you are ordering in the note/instructions field)
Visit 
www.muttmerch.com
 for cool Rock & Dog shirts!