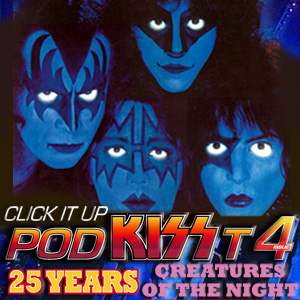 Well, folks… they say that time flies when you're having fun, and for KISS fans this is certainly applicable. It's hard to believe that 25 years have passed since KISS released the "Creatures of the Night" album… and yet, when I think back on what else was going on back then, it does seem like a long time ago; I was in 2nd grade, and when I wasn't thinking about KISS, I was busy with questions like "Is Darth Vader REALLY Luke's father?" and "Do all of the Pac-Man boards basically look like this?"
"Creatures" is an album that has held up very well over the years, probably because it's an unpretentious, straight-ahead rock record that somehow maintains its continuity and integrity despite the fact that there's no solid lineup throughout the album. In this episode of PodKISSt, we celebrate this fan favorite by examining the album in the context of social trends, the band's history, the evangelical protests, and more.
You'll hear:
– the original BTO version of "Rock and Roll Hell,"
– raw drum tracks from the "Creatures" sessions,
– interviews and news clips from the "Creatures" era,
– rare live performances from KISS' 10th Anniversary tour,
– and much, much more!!!
BIG THANKS to Tony, Ken, and the rest of our friends… and most of all, to YOU, the KISS Army, for being so patient and demanding what you've always demanded: THE BEST!!!
We hope you enjoy listening to this as much as we enjoyed assembling it. BE WARNED: Paul does use profanity in one of the live clips, so if you're listening with a wee KISS Army member, cover those ears during the live version of "I Love it Loud!"
Rate us on iTunes, "like" us on Facebook, and join the "PodKISSt Army!"
www.facebook.com/groups/Podkisst/
Now, in the words of the Demon… TURN IT UP!!!