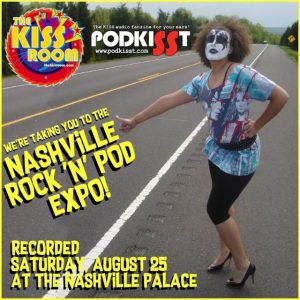 THE KISS ROOM and The PodKISSt are taking YOU to the NASHVILLE ROCK 'N' POD EXPO 2018!
Join your hosts Matt Porter and Ken Mills on the longest, loudest, fun filled adventure celebrating all things podcasting and rock 'n' roll!
Matt and Ken are joined by a star studded cast including Ron Jones, Tracey Jones, Brent Zius (Podcast Rock City), Buddy Baker, Shane Paisley, Robert Bentley, Josh Groves, Ralph Viera (RMCP), Earl Skakel, Joe Lascon, Robin Lascon, Alora Whitten (VeryAlora), Joe Gillies (Alive '75), Jacob Cade, Ron Keel (KEEL), Paul Taylor (Winger), David Cwik and Aaron Kozlowski (Black Heiron), Gary Corbett (KISS), Jody Havenot (Podcast Rock City), Joe Stacey, Tom Feeley, Craig Gass, Punky Meadows, Frank DiMino and Danny Farrow (ANGEL), Courtney Courtney Cronin Dold, Sean Cullen, Jason Thomas Broadrick, Christine Carlson Wolfe (the Button Queen) Bill Elam, Gary Shaller (PodKISSt) and Jumpin' Joe Polo (Podcast Rock City)
Nearly four hours of awesome music and conversation, this ROCK 'N' POD rewind is the perfect soundtrack for your next road trip!
Originally recorded on Saturday, August 25, 2018 at the NASHVILLE ROCK 'N' POD EXPO.
thekissroom.com
podkisst.com
See you all next year….
Find them on Face book
www.facebook.com/groups/thekissroom/?fref=n
Get a KISS ROOM! shirt here
http://www.redbubble.com/people/designsbyken/works…