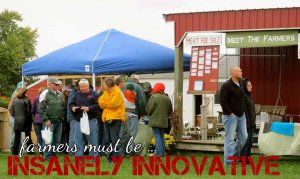 "Despite What You've Heard, Small Farmers are Doin…
. That is the title of a recent article by Brent Preston who runs an organic farm with his wife in Canada. What is so striking about this brief but compelling article is that it is completely opposite of the other articles about small-scale farming that have been making the rounds on social media over the past year. Those articles had titles such as,
"Don't Let Your Children Grow Up to Be Farmers"
or,
"Has the US hit peak farmers' market?"
 (this one is actually a pretty decent read and very informative) and the most recent big splash,
"What nobody told me about small farming: I can't …
. Can an online article have a more depressing title than those! Thankfully Mr. Preston has taken some time to respond and he is offering a different picture of the small-scale farming landscape, one that I feel is a little more representative of the reality.
Obviously the statement that, "small farmers are doing just fine" paints a pretty broad stroke and there are farms out there that are struggling or having tough patches. But, the reality is that there are always some businesses (remember farming is a business) struggling or working to pull themselves out of a hole. A struggling restaurateur could have easily written an article titled, "What nobody told me about the restaurant business: I can't make a living". Thankfully Mr. Preston took time in his article to share some of the "common elements" that he has noticed on successful farms over the years. I could not have said them better!
What do you think about the latest installment of the, "how are small-scale farms" doing genre? Were you encouraged by the writing of Mr. Preston or deflated because even the success that he wrote about seemed difficult to obtain? I would love to hear your thoughts!
Check out The Beginning Farmer Show on Faceb…
As always, I want to thank you so much for listening and supporting the show with your encouragement and reviews on iTunes! I am continually working to produce a better show, and I'm thankful for all of the listeners sticking with me as I learn.
If you do enjoy the show, don't forget that you can
subscribe on iTunes
and leave a five star rating and review (by clicking the link). If you are an Android phone user you can also
subscribe on the free Stitcher App
. It is so very encouraging to know that people are listening and enjoying the show!
I would love to hear your questions, show ideas, or comments about the show. Feel free to shoot me an e-mail! As always you can follow along with "The Beginning Farmer" and Crooked Gap Farm by checking out these links ...