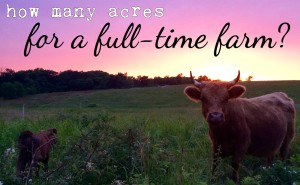 Of the many challenges that beginning farmers face (access to land, lack of farming skills, need for capital) one that I often find myself thinking about is just "how many acres" I need to make my farm a "full-time" farm (if that is the goal that you have). That reminds me of something my uncle said to me when he first saw my new shed, "It's not big enough." To me it seemed huge (bigger than our house) and besides, I built it as big as the money would allow! But, as he explained that the reason he said that was because buildings are never "big enough" it made sense. Now that I've had that shed for a few years I have thought plenty of times, "I wish I had room for this thing or that thing."
Often times it is similar when it comes to farm land as well. I am very thankful for the 40 acres we were able to purchase, but sometimes a little more would be useful. If I just had a few more acres I could raise enough cattle or sheep to help the income. If there 20 more acres maybe I could really increase my hog numbers and not sacrifice the grazing animals. Or, if I really upped the acreage maybe I could even produce all the feed on my farm for my animals! Nevertheless the question stands, "How many acres do you feel you would need in order to increase your various livestock levels so you would be able to support your family with just your farm income and not have to work off farm?" When I think about that question I have a few thoughts and a couple of paths I think I could go (or any other farmer in my shoes). I wonder to myself what could I do instead of livestock that would require 10 or less acres? I wonder if I just plain need to raise my prices to support everything on the land we have? I wonder if instead of increasing livestock numbers there just needs to be some other source on "on-farm" income (as in work from home). But, that wasn't the question ... so I feel like I have two paths I could take if I wanted to land a full-time on farm income as far as the number of acres.
Path #1 :: 40 Acres Enough
Sometimes bigger isn't better, so with that in mind there might be value in not increasing the amount of land that I am farming, but rather "farm it better" (you can decide for yourself what is better). If I was to take a path like this one I wouldn't increase my land, but rather increase my livestock numbers and shift my ratios. With the land base we currently are farming I believe I could up my hog numbers into the 300 to 400 range (total number each year not all at once) and I could also increase my poultry numbers without causing a huge impact on the hog numbers. The rub would be in the ruminants though. With that many pigs they would have to move out onto more of the pasture (or all of the pasture) and I would not be able to graze the numbers of cattle and sheep that I currently raise. I would lose diversity on the farm, but possibly gain a full-time farm income.
Path #2 :: Let's Get Biggish
I have thought about this path more than just a few times, so I have quite a few thoughts! But, instead of rambling on those thoughts I decided to come up with a simple answer. If I was going to add acres to get to a size that would allow me to farm full-time on the farm making a respectable living (working hard), and possibly even supporting more than just my family, I would say 300 acres of central Iowa farm ground. I didn't just pull that number out of the air though, that is how many acres Dick Thompson (one of the founders of Practical Farmers of Iowa) farmed. Of course there could be ways to lower that number through direct marketing, even deeper niche markets, and any other creative things you can come up with. But, it is a good starting point if I wanted to produce as many of my feed inputs on farm as possible.
Links mentioned in this episode:
Check out The Beginning Farmer Show on Faceb…
As always, I want to thank you so much for listening and supporting the show with your encouragement and reviews on iTunes! I am continually working to produce a better show, and I'm thankful for all of the listeners sticking with me as I learn.
If you do enjoy the show, don't forget that you can
subscribe on iTunes
and leave a five star rating and rev iew (by clicking the link). If you are an Android phone user you can also
subscribe on the free Stitcher App
. It is so very encouraging to know that people are listening and enjoying the show!
I would love to hear your questions, show ideas, or comments about the show. Feel free to shoot me an e-mail! As always you can follow along with "The Beginning Farmer" and Crooked Gap Farm by checking out these links ...