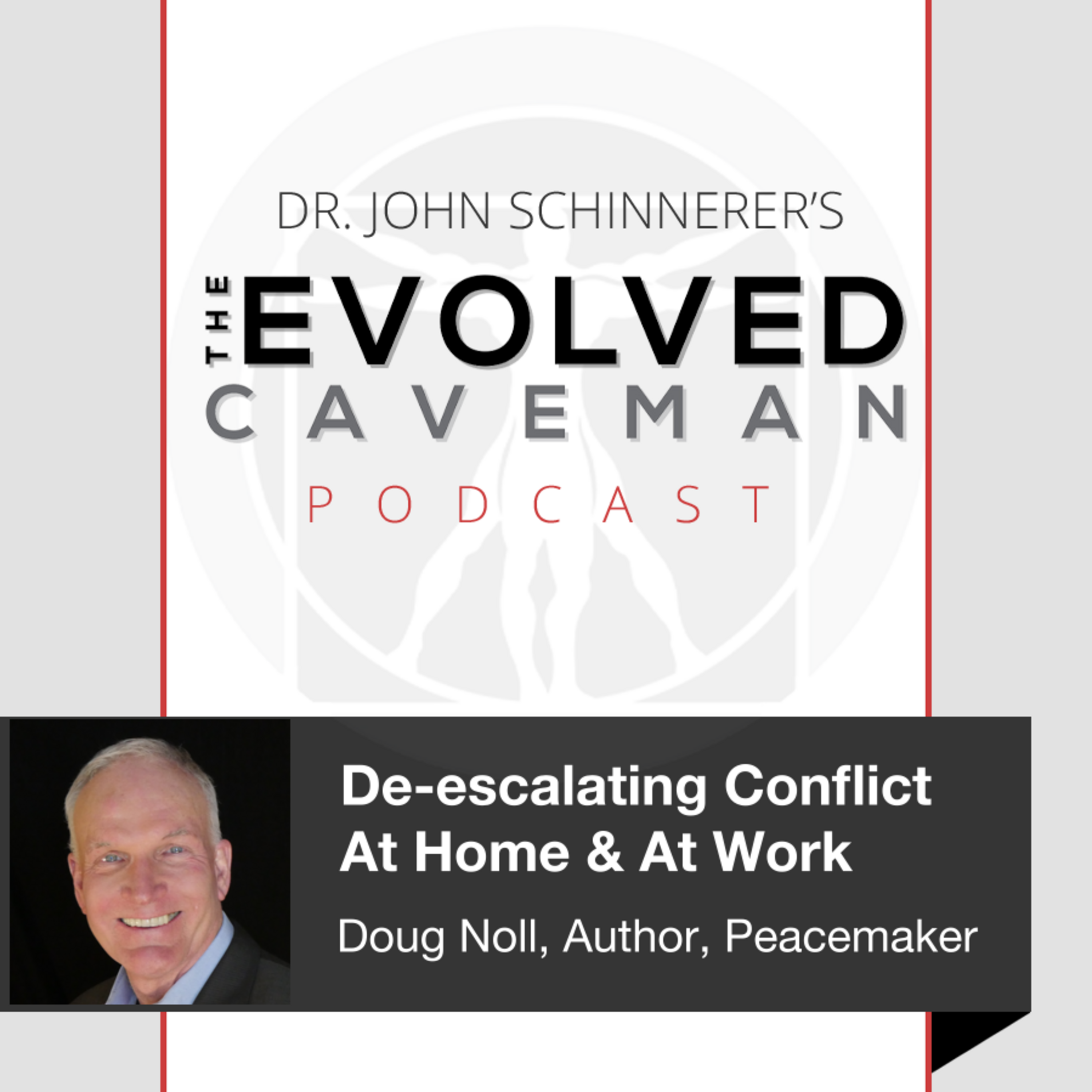 What makes for a successful person? A common trait among successful people is the ability to handle conflict well. This means having:
1.   A willingness to enter into highly emotionally charged conversations (they don't shy away from conflict), 
2.   The ability to remain calm themselves,
3.   The ability to calm others down so that 
4.   Workable solutions are discovered. 
But what if we are talking about dealing with the situation between Israelis and Palestinians? 
Or Republicans and Democrats (lately)? 
Or your assh*le narcissistic boss?  
Or, what if we are talking about dealing with murderers? 
Well, hold onto your hats, true believers, because this episode has it all – THE way to de-escalate anger in others AS PROVEN by 12 years of work done in maximum security prisons with murderers and, of course, neuroscience. 
Dr. John's Guest:

Douglas E. Noll, JD, MA left a successful career as a trial lawyer to become a peacemaker. His calling is to serve humanity, and he executes his calling at many levels. He is an award-winning author, teacher, trainer, and a highly experienced mediator. Doug's work carries him from international work to helping people resolve deep interpersonal and ideological conflicts to training life inmates to be peacemakers and mediators in maximum-security prisons. His website is
DougNoll.com
. His email is
[email protected]
. 
Resources referenced:

De-escalate by Doug Noll
The Major Political Writings of Jean-Jacques Rosseau
Born To Be Good by Dacher Keltner Ph.D.
How Emotions Are Made by Lisa Feldman Barrett Ph.D.
Emotions Revealed by Paul Ekman
Leviathan by Thomas Hobbes
Please like, review, rate and share!
If you like what you've heard at The Evolved Caveman podcast, support us by subscribing, leaving reviews on Apple podcasts. Every review helps to get the message out! Please share the podcast with friends and colleagues.
Follow Dr. John Schinnerer on
| Instagram |
Instagram.com/
@TheEvolvedCaveman
| Facebook |
Facebook.com/Anger.Management.Expert
| Twitter |
Twitter.com/
@JohnSchin
| LinkedIn |
Linkedin.com/in/DrJohnSchinnerer
Or join the email list by visiting:
GuideToSelf.com
Please visit our YouTube channel and remember to Like & Subscribe!
https://www.youtube.com/user/jschinnerer

Editing/Mixing/Mastering by: Brian Donat of B/Line Studios
www.BLineStudios.com
Music by: Zak Gay
http://otonamimusic.com/