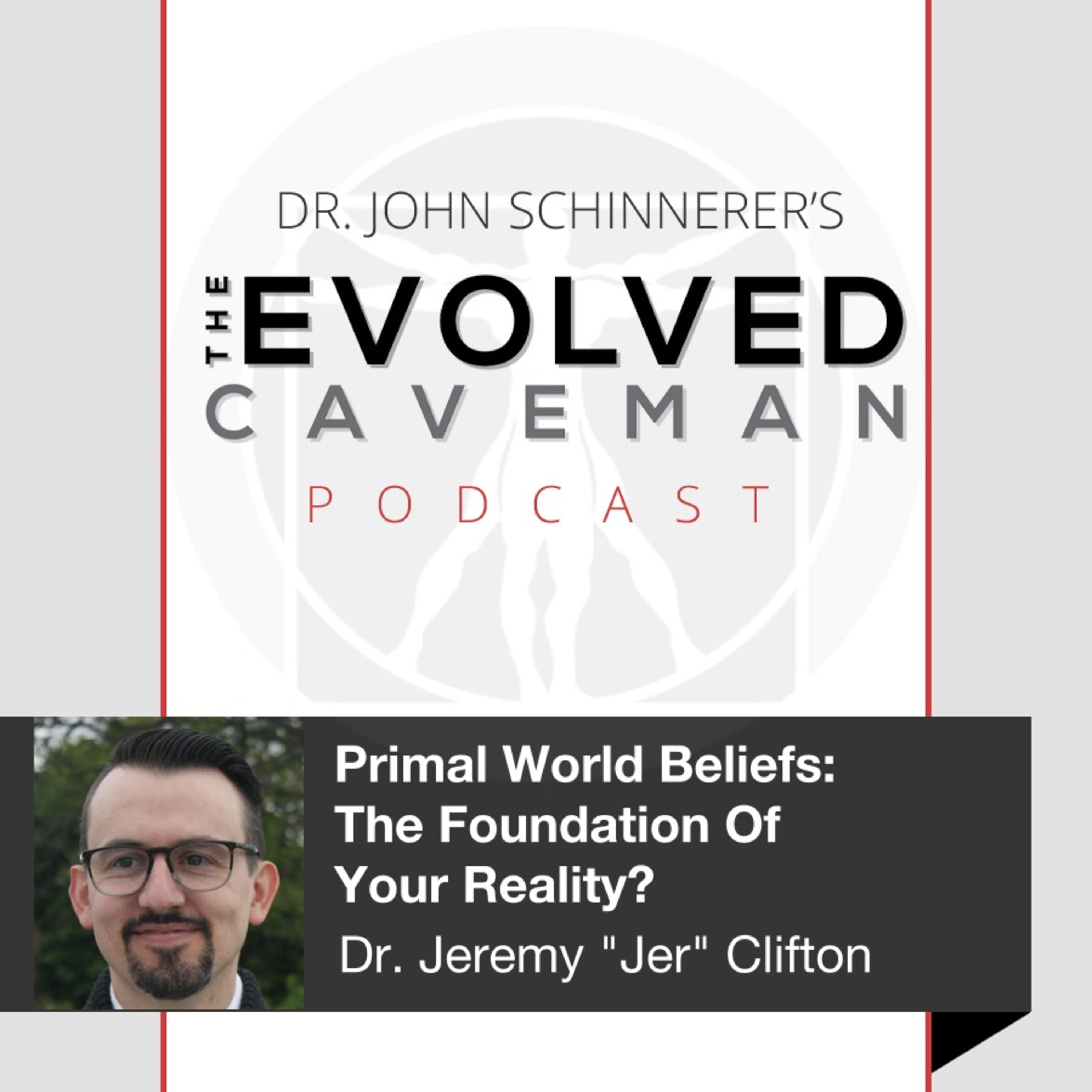 Primal World Beliefs is a new area of research that seems to be the foundation of your perceptions, thoughts, emotions and actions. The implications of this are massive. Consider that you might change your behavior towards others by shifting what you believe about how safe the world is in general. How about changing your relationship with money by altering what your belief is about how abundant resources are in the world? This area is in its infancy - only two years old. And yet, some of the greatest minds in psychology are working on it: Dr. Martin Seligman, Dr. Carol Dweck, and Dr. Alia Crum, alongside Dr. Jer Clifton. The hall-of-fame quality of the minds involved in this area of research give you a hint at its potential importance and why we here at The Evolved Caveman are so excited about it.
Join Dr. John as he uncovers the power of your primal world beliefs with the man in charge of the research on Primals: Dr. Jeremy "Jer" Clifton.
Jer received his Ph.D. in psychology from the University of Pennsylvania studying with Dr. Martin Seligman, and Dr. Angela Duckworth. His primary research area concerns primal world beliefs, with a secondary focus on measurement.
Publications include the 2019 Psychological Assessment article introducing primal world beliefs that was recently featured in the Washington Post. He is currently Senior Research Scientist at the UPenn Positive Psychology Center, Director of the UPenn Primals Initiative, and teaches research methods in the UPenn Master of Applied Positive Psychology program.
Topics covered:
What exactly are primals?
To what extent do primals impact our perceptions thoughts, feelings and actions?
How does trauma influence primals?
How are primals affected by the surroundings in which we grow up? Does growing up in a violent inner city apartment complex shift belief towards seeing the world as a dangerous place? Hint: The answer is not what you think!
How do primals change over time?
How do primals correlate with sex? Do women see the world as more dangerous than men?
Given that they are stable over time, how open to change are primals? How can we change our primal beliefs for greater happiness and success? Hell, how do we feel safer?!
To what extent are we aware of our own primal beliefs? How can we get more aware?
How do parents look at teaching primals in their children. Do they tend to want their kids to see the world as safer or more dangerous?
This is one of the most exciting areas of research in psychology. The implications of it are vast and powerful. Discover what primals are and how you can influence yours to achieve the results you want.
Take the Primals Inventory at AuthenticHappiness.org. Find out all about your scores at MyPrimals.com! Free.
If you like what you've heard at The Evolved Caveman podcast, support us by subscribing, leaving reviews on Apple podcasts. Every review helps to get the message out! Please share the podcast with friends and colleagues.
Follow Dr. John Schinnerer on
| Instagram | Instagram.com/@TheEvolvedCaveman
| Facebook | Facebook.com/Anger.Management.Expert
| Twitter | Twitter.com/@JohnSchin
| LinkedIn | Linkedin.com/in/DrJohnSchinnerer
Or join the email list by visiting: GuideToSelf.com
Please visit our YouTube channel and remember to Like & Subscribe!
https://www.youtube.com/user/jschinnerer
Editing/Mixing/Mastering by: Brian Donat of B/Line Studios www.BLineStudios.com
Music by: Zak Gay
http://otonamimusic.com/