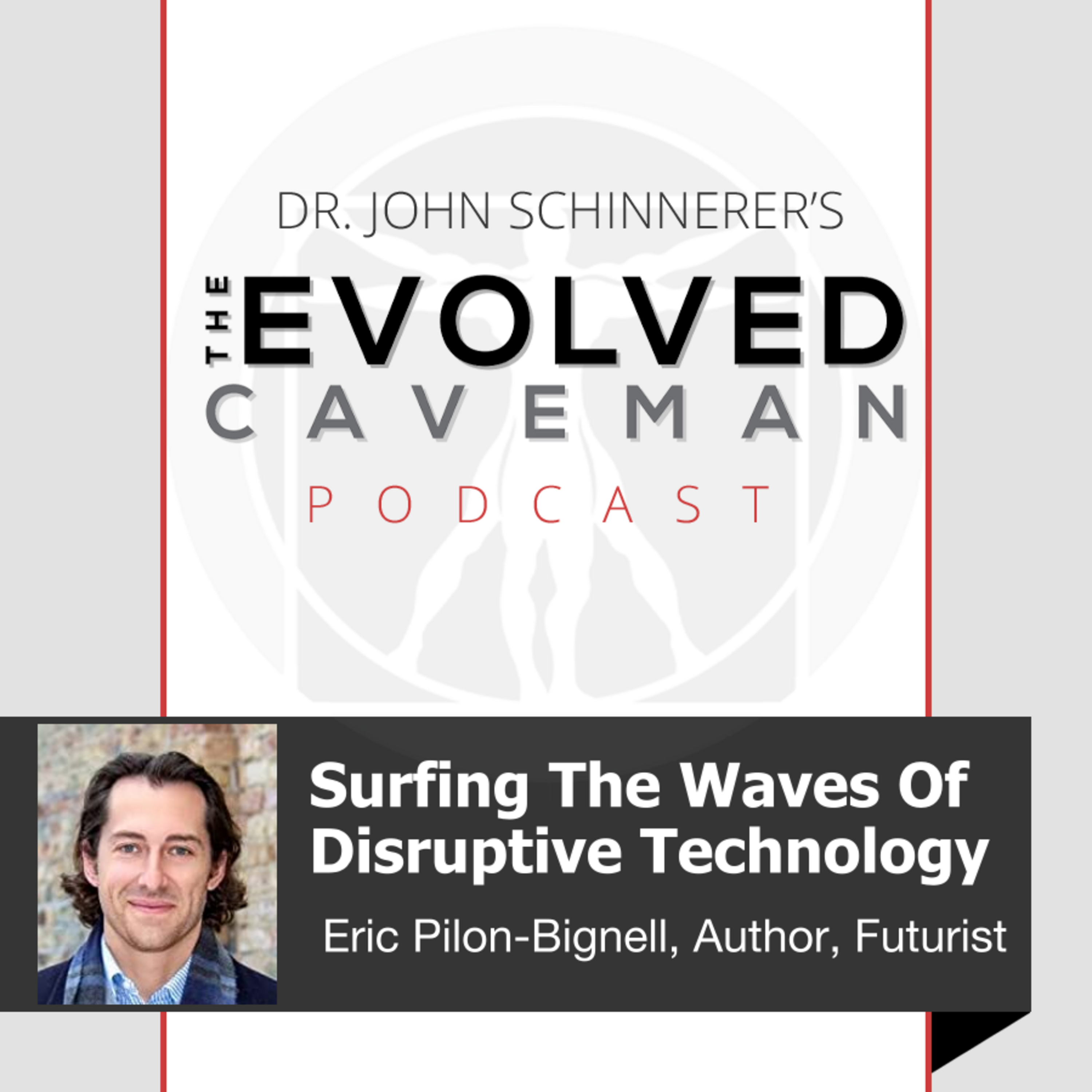 Humanity is at a crossroads between the world as we know it and the rapid pace of disruption. The smallest changes are reshaping our world faster than we can comprehend. Over the next few years, we will experience more disruption than in the previous 100 years. Do we notice this change happening? Are we numb or oblivious to this change? Are things changing too fast and too regularly to notice? Every modern change presents as a giant, rogue wave emerging on the horizon—will we surf these waves with mastery? Or will we let them swallow us whole? 
We live in the greatest period of opportunity in all of human history; how will you gain from it? Furthermore, how will you influence and shape both your life and the future of humanity? 
Dr. John's Guest on The Evolved Caveman:
Eric Pilon-Bignell is a pragmatic futurist focused on addressing disruption by increasing the creative capacity of individuals, teams, and organizations to ignite change, innovation, and foster continuous growth. Eric has an undergraduate degree in engineering, an MBA in Information Systems, and a Ph.D. in Global Leadership. His doctoral work primarily explored complexity sciences centered on executive cognition and their use of intuitive improvisation, decision-making, artificial intelligence, and data-based decision models. He's the author of
Surfing Rogue Waves
, a book about how to navigate the disruption of the Fourth Industrial Revolution we are entering.
Questions Discussed:
1. Why do you use surfing as a metaphor for navigating the "fourth industrial revolution"?
2. What does it mean to "watch from the shore," when it comes to technological advancement?
3. What is the fourth industrial revolution? What were the first three industrial revolutions, and how does this next iteration compare to its predecessors?
4. What is the "disruption" your book helps people navigate?
5. In your book, you pose the question, "What if AI becomes more than a tool?" What if, indeed? Do you have predictions on what AI can become and how the "risks" may outweigh the "reward"?
6. What is 'complexity,' and why does it matter?
7. What does personal improvisation have to do with the rapidly changing digital landscape?
Please remember to like, rate and share!
Please like, review, rate and share!
If you like what you've heard at The Evolved Caveman podcast, support us by subscribing, leaving reviews on Apple podcasts. Every review helps to get the message out! Please share the podcast with friends and colleagues.
Follow Dr. John Schinnerer on
| Instagram |
Instagram.com/
@TheEvolvedCaveman
| Facebook |
Facebook.com/Anger.Management.Expert
| Twitter |
Twitter.com/
@JohnSchin
| LinkedIn |
Linkedin.com/in/DrJohnSchinnerer
Or join the email list by visiting:
GuideToSelf.com
Please visit our YouTube channel and remember to Like & Subscribe!
https://www.youtube.com/user/jschinnerer

Editing/Mixing/Mastering by: Brian Donat of B/Line Studios
www.BLineStudios.com
Music by: Zak Gay
http://otonamimusic.com/