Are you dating or do you have a friend who is? If you haven't been in the dating world for the last decade, the cultural shift that has hit will leave your head spinning. For those who are currently single, we realize you're going to face challenges your married friends may not understand. In this episode, co-hosts Darlene Brock (happily married for several decades) and Julie Graham (widowed after 11 years of marriage to her college sweetheart….and currently dating) talk through some of the stereotypes in the dating scene. First, they discuss how to know if you're ready to date. Then, Darlene gets Julie's inside scoop on what it's like to navigate the often scary online dating world. In their signature style, they take a few minutes to get personal: unpacking how to support a friend who's looking for a partner. And these ladies cannot leave this subject without sharing how to make a list of the qualities you're looking for in a date before you consider meeting anyone new—pulling from sage advice Julie got from
Dr. Zoe Shaw
. Whether you're dating, know someone who's dating, or haven't had a date in 15 years, this week you're bound to learn something new!
If you're looking to make your own list of what you're looking for in a potential date, feel free to pull from Julie's top 5:
1) Loves Jesus
2) Has integrity and is well spoken of
3) Emotionally Supportive
4) Common interests and chemistry
5) Supports my goals/dreams and wants to see me succeed
Viewing in an app?
Full show notes here!
Articles We Mentioned or Know You'll Love
When Will I Be Ready to Date After My Husband's Death?
When my husband passed away suddenly, I knew fairly quickly I would want to date again. For some, that might seem odd.
You see, I love marriage. So much so that I even began an online community for wives (and
Read more
5 Guys to Avoid (That Your Mother Warned You About)
Navigating the dating world at any age is difficult. We come into our own as teenagers, when many of us experience the first taste of what it is to go on a date. Perhaps your parents pick your date
Read more
Here's a Quick Way to Know If You Should Keep Dating Him
"All the single ladies. All the single ladies. All the single ladies, now put your hands up!" Most of us have heard this now infamous song whether playing it on our iPod after a breakup or at a wedding
Read more
Should You Ask Him Out?
Alright, ladies, let's tackle one of the biggest questions in our minds when we're interested in a guy: Should we ask him out? He's really handsome, funny, you enjoy hanging out with him, and you want to take it
Read more
Dear Friend, He Doesn't See Your Worth But I Do
As adults, we tend to be multi-track minded. So, I'm sorry I haven't been as frequent in checking in on you as I could be. I promise to try and do better, but speak up when you're struggling, OK?
Read more
Quote of the episode:
"When it comes to dating you want the whole meal deal" Darlene Brock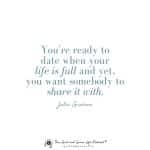 Check out these episodes we mentioned:
Single? How to Thrive in the Online Dating World w…
,
Single Again? How to Know When to Date After Death…
, and
Dating? What to Look for in a Man – 073
.
Be sure to follow us on social media!
Facebook
Instagram
Twitter
Pinterest
#gritandgracelife