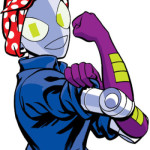 This week, we are getting ready for our annual trip to CONvergence!  Our podcast debuted there five years ago and we all have very personal connections to the convention.  We talk about our schedules for the con, some of our favorite things, and even some things that we don't enjoy quite as much.  If you are coming to the convention, we hope we get a chance to see you there.  If you aren't someone who attends CONvergence, maybe the episode will get you thinking about a local sci-fi con of your own!
Note: We are aware there are some audio issues with this episode starting around the 22 minute mark.  The problem is not the same as issues we've encountered on previous episodes but it is, unfortunately, in the source file.  As always, we'll do some checking to figure out how we can prevent such issues in the future!
Show notes below the fold!
Here's a link to
Molly's full schedule
for the con!
Here's a link to
Nick's full schedule
!
Here's a link to
Tim's full schedule
!