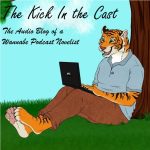 In today's episode I have Chapter 12 of the remade 'Outcast' for your listening pleasure.
In this chapter, Dalan and his new roommate finally begin to talk to each other. He learns her name, where she's from, and they quickly form a friendship that promises to blossom into something much more.
But Dalan knows that when her sickness passes that she'll have no reason to stay with him. What happens then? What is he to her?
Show Notes